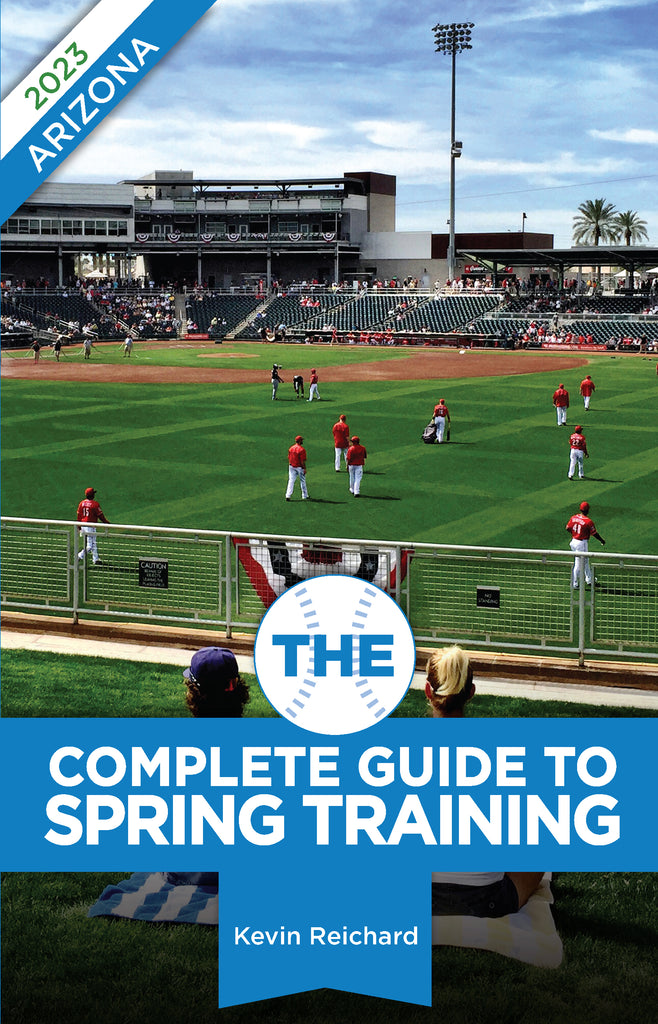 August Publications
The Complete Guide to Spring Training 2023 / Arizona
We've come a long way since 2019—the last "normal" spring-training season—and all signs indicate that 2023 will finally be the time when we can worry less about labor lockouts and ballpark COVID restrictions and worry more about what's happening on the field. A time for fresh beginnings.
And spring training is a time of new beginnings, when the baseball world preps for another season, as rookies fight for roster spots and veterans prep for another campaign. Every team in spring training has a shot to contend for a title, as life on the diamond begins anew.
This book is meant for all types of spring-training fans. Hardcore baseball fans scout their favorite teams and eagerly track every open roster spot. Casual fans head to spring training in search of the perfect Florida experience, happy to sip a brew at the outfield bar.
This book covers the 15 Cactus League teams playing out of 10 training camps: American Family Fields of Phoenix (Milwaukee Brewers), Camelback Ranch-Glendale (Chicago White Sox, Los Angeles Dodgers), Goodyear Ballpark (Cincinnati Reds, Cleveland Guardians), Hohokam Stadium (Oakland Athletics), Peoria Stadium (San Diego Padres, Seattle Mariners), Salt River Fields at Talking Stick (Arizona Diamondbacks, Colorado Rockies), Scottsdale Stadium (San Francisco Giants), Sloan Park (Chicago Cubs), Surprise Stadium (Kansas City Royals, Texas Rangers), and Tempe Diablo Stadium (Los Angeles Angels). Also included: Chase Field, home of the Arizona Diamondbacks, and Phoenix Municipal Stadium, home of the Arizona State University Sun Devils. For those who follow their teams: exhibition games in Las Vegas.
Changes for the 2023 spring-training season are highlighted, including the return of the World Baseball Classic and its impact on your travel plans, as well as new ballpark amenities.
Each chapter features:
Best seats in each ballpark, whether you want comfort, shade, accessibility or autographs

Ballpark tips

Must-sees before and after the games, including local baseball attractions and sports bars

Training information, to plan a trip before the games start

Information on new and renovated ballparks

Travel tips: Low fares at nearby airports, alternative routes (beat the traffic!) and freeway shortcuts

College games: create your own day-night doubleheaders

Points of interest for the baseball history fan
The cost of the print edition: $17.99. The cost of the eBook edition: $9.99.
If you buy the eBook from August Publications, you'll need to transfer it to your device if you do not buy it from your device. Amazon gives you plenty of tools to transfer this book from a PC/Mac to any sort of Kindle; click here for information. We've done lots of testing to ensure this book can easily be transferred to any Kindle, and the process is smooth! If you're not comfortable transferring files to your device, we recommend buying it from Amazon (for the Kindle), Barnes & Noble (for the Nook), or Apple (for the iPad/iPhone).
You can buy the print and Kindle editions from Amazon.com. Click here for the product page.
---
More from this collection